I'm quoted in Tim Leffel's latest book Travel Writing 2.0, which came out in January 2016.
"As Kim Foley MacKinnon says, 'No story is too small. Every single person and place has something fascinating to tell if you just look hard enough.'"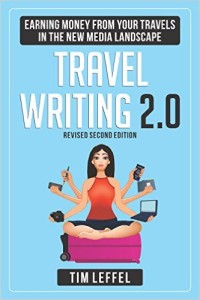 Besides my two cents, the book is filled with great tips and strategies on travel writing. Here's the book blurb: Completely revised edition of the ground-breaking travel writing book that provides a road map to success in the digital age. It dives headlong into the entrepreneurial world of blogging and digital books, while still acknowledging the real money to be made in declining print forms. Drawing on interviews and survey responses from more than 100 successful travel writers and bloggers, this is the definitive guide to creating success instead of waiting for permission.
******
Here's a link to a YouTube video of me skydiving. It was an amazing experience! I did it at Skydive New England in Maine. I'll definitely go again.
And here's the article I wrote about it:
Down to Earth
Northern New England Journey, May 2014
******
Visiting New Orleans for this event and story was a blast. Loved it!
Woman Wins Tennessee Williams "Stella" Shouting Contest