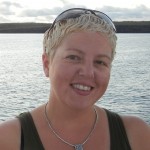 Kim Foley MacKinnon is a Boston-based editor, journalist and travel writer. Her work has appeared in the Boston Globe, AAA Horizons, Travel + Leisure and DailyCandy, among others. Travel is her passion, with food a close second. She is a member of the Society of American Travel Writers and has several guidebooks to her credit.
In 2014, her travels abroad include Mexico, Jamaica, Grand Cayman, Dubai, Germany, and Iceland. In the U.S., visits include New England, Florida, Virginia (Old Town and VA Beach), Detroit, Atlantic City, and a road trip to the Grand Canyon, among others. She's only got three states left to complete the whole set (looking at you Idaho, Minnesota and North Dakota!).
Travels scheduled in 2015 (so far) include Norway, New Orleans, Portsmouth, VA, Newfoundland, and Las Vegas.